One of the most practical and beautiful window dressings you can fit inside your home is the wooden plantation shutter. But before you make the investment, how much do wooden plantation shutters really cost? Many people assume they are expensive because they are so sturdy and longlasting.
If you opt for DIY installation, you can save as much as 40% on the installation fees.
What Is The Average UK Price For Window Shutters?
When looking at plantation shutters in the UK, you should expect a cost of between £180-£300. If you decide that you would be better having your wooden plantation shutters fitted by an expert, it will cost £300+ per sqm. To save money on your shutters, then self-installation shutters can cost as little as £180 per square metre. This is a saving of up to 40% of fees.
What Are The Different Types of Shutters?
There are several different styles of shutters that you can choose from. This means there will be a style that fits your interior design. Window shutters can be built to spec, which means you will always get a bespoke service if you need it.
These shutters have no slats, and they are ideal for period properties. Solid shutters offer incredible light reduction when closed. From £179m2
This type of shutter is used on bay windows most often. Tier on tier shutters have a tier at the bottom of the window, and one at the top. This allows you to use the shutter with more control, opening just the top or bottom should you wish. From £179m2
Cafe-style window shutters partially cover the window. They allow light in but provide you with more privacy than some other shutter options. These are also the most cost-effective as they are designed for smaller windows. From £179m2
This style of the window shutter, as the name suggests, will be covering the entire window or door. The slat control can be split with mid rails, or a hidden split – whatever you prefer. This will offer you plenty of control over the light. From £179m2
If you have a window that would look great with a shutter but doesn't fit any of the standard sizings, get in though to discuss specially shaped shutters Although you will need to factor labour into getting these ones fitted.
---
---
What Are The Benefits Of Window Shutters?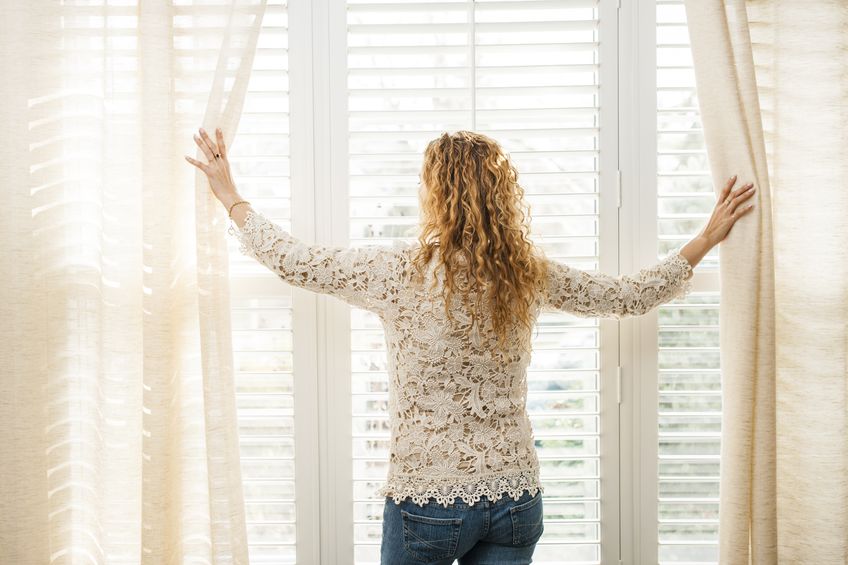 Aside from the aesthetic benefits of window shutters, there is a range of benefits that you might not have considered.
Control the light – Slats and shutter are incredible for light control. You can open them up fully to let all of the natural light into the room, you can have the half-open to allow for partial lighting, or you can close them. When closed, they are incredibly effective for keeping a room very dark,
Incredibly durable – when you invest in quality wooden slats and shutters, they will last for years. Once fitted they will last and won't need to be replaced any time soon.
Gives you privacy – Many window dressings look pretty but aren't ideal for giving you a high degree of privacy. For street-facing windows, shutters can give you the most amount of light while ensuring your privacy.
Extra layer of soundproofing – An often overlooked benefit to plantation shutters is that they add an extra layer of soundproofing to your home.
Value – Shutters give you home a more luxurious feel, so the investment will come back to you should you decide to sell your property. Your plantation shutters will become a notable feature, increasing the price of your home.
Clean – shutters are one of the most simple window dressing to clean. You can dust them quickly and easily with a cloth, duster, or a shutter duster. Unlike net curtains, blinds or dry clean curtains which can be more challenging to clean, and leave with you no window covering while they are cleaned.
Increased insulation – if you are keen to keep your energy bills low, then window shutters are the ideal solution. Window shutters can help minimize the impact of any draughty windows and provide your home with better insulation.
What Materials Are Window Shutters?
Plantation shutters come in a range of materials, and this will have an impact on the cost of your window shutters. Due to the wide range of materials, there is a plantation shutter to suit all budgets.
Examples Window Shutter Cost By Material;
MDF Shutters From £179 pm2
These are budget-friendly, also known as the cheap shutters. They are the most affordable shutters available, however, due to the material used, they are easily marked and don't generally stand the test of time. However, they are ideal for a window dressing that won't be used, or for those who love the style but can't quite stretch to hardwood shutters. For the same price, you can get a higher quality shutter by opting for the Essential shutters.
Essential Shutters from £179 pm2
These shutters are the same price as MDF shutters but higher quality. They are made from a combination of polyvinyl, aluminium, and solid brass wood. They make a great choice because they have the appearance and sturdy nature of wood, but without the cost attached.
They are resistant to damage due to the polyvinyl, and the aluminium core makes the unbreakable too. Keep in mind that these shutters are of higher quality than the MDF shutters but are longer lasting and better quality.
Hardwood Shutters from £200pm2
These are the real wooden shutters, with the stunning smooth grain. They come in at a higher price because they are 100% solid wood. These show the grain of the wood and can give a look at and feel of a french or English countryside cottage. You can sand or plane these shutters, or even paint them. Giving you the more personalised option for your home. They have a strength that only comes from real wood, and will stand the test of time.
Waterproof Shutters from £200 pm2
If you want sturdy shutters that are waterproof, then polyvinyl waterproof shutters are the way to go. They are impervious to rain, steam and water splashes. These are the perfect options for wetrooms, kitchens, and bathrooms. They won't warp or split over time, so make a great investment.
What Is The Most Affordable Material For Shutters?
Now you have heard about the benefit of shutters, and all of the material options you might be wondering what the most affordable material for shutters is. The most affordable shutter will come down to several factors. The size of the window in question, the location, and what your budget is.
However, the most affordable shutter that we offer is the Essential shutter. This is the best in terms of budget, and for the strength and durability of the material.
What Colour Are The Window Shutters?
It is essential that you get the finish and colour on the shutters to suit your interior, which is why we offer a range of different colours. Depending on the material of your shutter, will depend on the available colours and finishes.
Essentials Shutters come in the following colours:
Paint – Traffic white, signal white, cream, oyster white, cream grey, grey-white, brown-grey, signal grey, dusty grey, moss grey, traffic grey, black grey.
Hardwood shutters come in the following colours:
Paint – Traffic white, signal white, cream, oyster white, cream grey, grey-white, brown-grey, signal grey, dusty grey, moss grey, traffic grey, black grey.
Stain – Beach white, old white, natural, honey, rustic grey, chocolate, dark chocolate, antique brown, wenge, walnut, matte black
Limewash – white grain, fern, branch, bark
Waterproof PVC shutter colour options:
Paint – traffic white, signal white, cream
It is important that you check the colours in-store as swatches may appear differently online.
How Much Will Bay Window Shutters Cost?
Bay windows are typically quite large and need particular attention. A typically sized box bay window is likely to measure approximately 2sqm. This will cost £359 if you purchase the shutters that you can self-install.
---
---
To best calculate the cost of shutters for your bay windows, you need to multiply the overall width by the height to find the square metre measurement. You will then multiply this but the cost of the shutter range that you would like to have. The calculator will look something like:
2m2 = from £359
3m2 = from £538
4m2 = from £718
These are the costs of self-installation shutters. If you want your shutters to be installed by a professional, then you should add 40% on for the final costing for installation.
Wooden plantation shutters can add value to your home, keep your home well insulated and look stunning too. Making them the ideal choice for people who want to control the amount of light in their home while maintaining privacy and a clean aesthetic.
Call today to discuss which window shutter option is the best for your home and style. One of our experts will be happy to answer any questions about your window shutters and give you the highest – quality service in the area.
---