When it comes to your bathroom windows, it can be difficult to figure out what's best in terms of both looks and function. You'll want to keep privacy to a maximum while maintaining ventilation most of the time.
One of the best options, in this case, is that of shutters! They're pretty perfect for bathrooms and wet rooms.
Shutters are popular, but not every household entertains them. They have a wide range of benefits for any homeowner, however. For instance, they provide privacy all day and all night. They're also fairly easy to keep clean and to maintain – drying quickly is an attribute, too, when subjected to condensation in the air.
If you don't have too much to spend, then shutters would be a great idea as they are fairly affordable should you want to measure and install them all by yourself. Fortunately, the installation and measurements are all pretty straightforward.
Types Of Bathroom Shutters
Shutters exist in all kinds of rooms. For bathrooms, you're going to want to focus on the likes of privacy, light, and the overall comfort you feel with them in the room. These three aspects will help you decide the perfect shutters for what you're looking to achieve. Bathroom shutters will typically come in the form of the following:
Café style: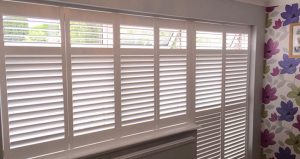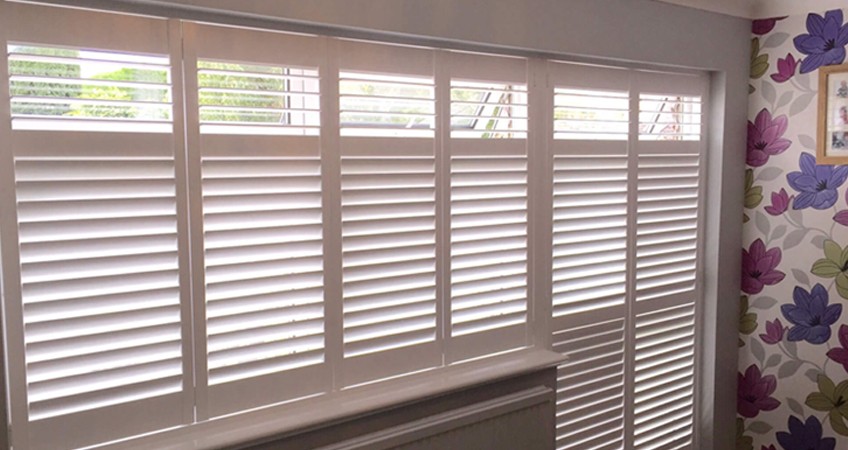 They'll cover the bottom half or so of the window. This is so that the top half can be freer and can let in a lot more light during the day. They'll work perfectly on much taller windows. You'll get a lot of privacy while enjoying the looks and the light making its way in – the best of both worlds.
Full height: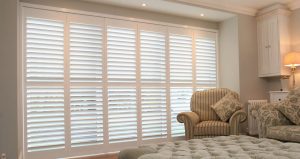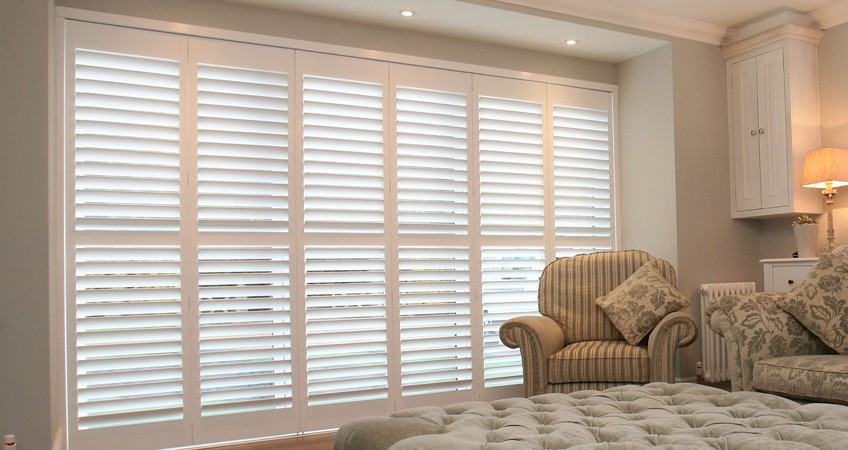 As you'd expect, these tend to be the most popular for bathrooms as they'll cover every inch of the window. While you may not get as much light as the café style ones, you'll get a certain beauty while feeling comfortable with complete privacy. Whatever the size of the window(s) you have, these will have you covered.
Waterproof Bathroom Shutters:
As you'd expect, most bathroom shutters are going to be waterproof in order to deal with the splashing and the humidity that takes place. Vinyl shutters are waterproof and will be able to hack any kind of wet situation. Material blinds and wooden shutters might struggle to deal with these kinds of events, but vinyl will work perfectly. Other kinds of available shutters that will have no problem dealing with watery instance include:
Shaped Window Shutters: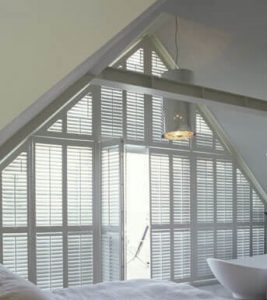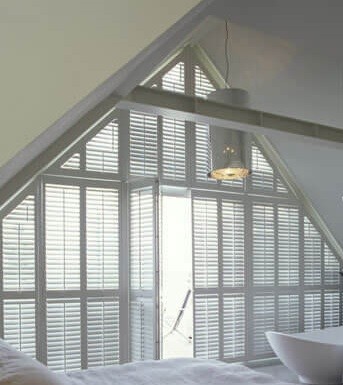 If you have an irregular or differently-shaped window, then it might be a little difficult to find shutters that fit the style you possess. This is where made-to-measure shutters are created. Triangle, curved, half-circle, octagon and so many other shapes are available to be created. You just have to let the professionals know, and they'll handle everything for you.
Tier On Tier:
These shutters will cover your windows with two sets of equally-sized panels. An upper set and a lower set will be included. Very much like café style, you'll be able to half have open and half concealed. The plus is that the versatility will mean you'll be able to pick and choose when to create the café style or full-length style.
For detailed information about types of shutters, click here.
How To Look After Your Bathroom Shutters
Shutters need to be maintained like pretty much everything else in your home. In order to do this, there are a few tasks that need to take place. They're not too difficult to do, of course, but you must remain consistent.
Make sure you dust the slats regularly so that they're kept at their best. Using a clean cloth will ensure that you don't shed the fibres. Always start from the middle and work your way outside – start from the top and work your way down. Do this once a week. Don't be afraid to use your vacuum cleaner, too. Shutters will need the soft upholstery attachment in order to fully benefit. Again, work from top to bottom, and from the centre to the outsides. When you're taking good care of the shutter, be careful not to rub too hard if there are any smudges or blemishes already present.
IF you opt for wooden shutters, then, obviously, you're going to want to avoid using lots of water or liquid cleaners.
You can actually find special tools that suit shutter cleaning. They will have evenly-spaced dust-removing heads in order to work on multiple slats at the same time. This makes the job a lot easier and gets everything done a lot quicker.
If your bathroom shutters look as though they have sticky patches on them, then that doesn't have to be too much of a problem. Simply drop a few bits of dish detergent in water in order to create a cleaning solution, and then wipe it down.
If you want to stop dust from accumulating quickly, then you can rub a fabric dryer sheet onto both sides of the slats when they're closed.
Contact Artblinds For More Information!
If you want to receive more info about shutters, their properties, and how best to deal with them, then why not get in touch with us here at Artblinds? We'll be able to answer any query you have and put any worries you have to bed.
We can give you a free quote and a measuring service – all you have to do is give us a call on 01702 559 969. Or email us at artblinds@btconnect.com.
We're located at 372 London Road, Hadleigh, Benfleet, Essex SS7 2DA if you ever want to stop by!
---