In general, vertical blinds need hardly any maintenance. Their vertical orientation means that dust settles on them more slowly than, say, a kitchen counter or window sill. With that said, vertical blinds can still attract grime, dirt, and debris and will need cleaning on occasion.
Vertical blinds come in a range of materials, including fabric, cloth, and plastic. For this reason, you need to adopt a cleaning method that is appropriate for the particular type of window coverings you have.
Cleaning fabric and cloth blinds requires removing the fabric section from the window by unclipping it and then placing them in the washing machine on the appropriate setting.
You can usually carry out the cleaning of plastic vertical blinds without removing anything from the wall at all. Plastic vertical blinds are exceptionally low-maintenance, but they can, occasionally, attract grime, especially in the kitchen. Evaporated fat in the air can accumulate on the surface and then act as a glue for dust in the environment, leading to a thin covering of sticky paste.
Here, we're going to take a look at how to keep your blinds looking great and the common questions that people have about cleaning them. You'll learn how and when to clean your shades depending on the materials and manufacturer specifications.
How to Clean Fabric Vertical Blinds
The good news is that cleaning vertical fabric blinds is usually incredibly easy. You could take a damp cloth and wipe them down while they're on the rail and try to remove the dirt that way, but you run the risk of damaging or creasing the fabric. The best approach is to remove the fabric section first so that you can clean it on a flat surface.
First, unclip the fabric vertical blinds using the clip at the bottom. Then unhook them from the rail and place the material on a flat surface. Take your damp cloth and run it over the surface to remove any dirt, turning halfway through to do both sides. This should remove most of the grime on the surface and help brighten the colours again.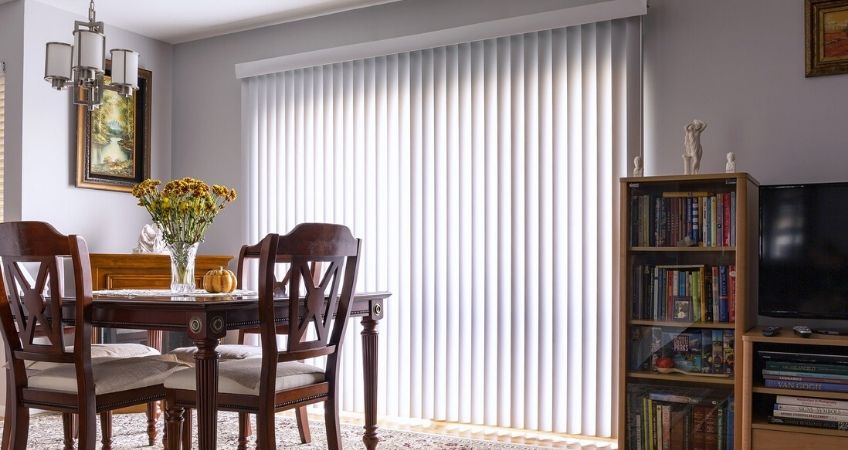 How to Clean Different Types of Vertical Blinds
You may wonder how to clean vertical fabric blinds if yours are of a different type. Fortunately, most blinds come with manufacturer instructions, telling you how to prepare and wash their products.
Wood blinds require gentle cleaning with cleaners that do not contain any harsh chemical that might leave streaks. Vinegar or a rag with warm water is probably the best option here.
Faux-wood blinds are more resilient than natural wood, allowing them to withstand regular detergent, applied with a paper towel. The same applies to plastic blinds or any other type made of synthetic materials.
For Venetian blinds, your best bet is to remove them from the windows and leave them to soak in a bath. Then hang them out to dry.
Can You Wash Vertical Blinds in a Washing Machine?
Sometimes you'll need to go a little further in your cleaning efforts if you think that dirt has penetrated the fabric and sits under the surface. But can you wash vertical blinds in a washing machine? Yes, you can. Just make sure that the material you choose is machine-washable.
Best Way to Wash Vertical Blinds in Washing Machine
Washing vertical blinds in a washing machine takes a little preparation. The best way to wash vertical blinds in a washing machine is to use the following procedure:
Remove the fabric from the blind according to the manufacturer design

Take the material away from the blind, ensuring that there are no additional, non-fabric parts attached

Roll the fabric into a cylinder shape and then secure with a plastic band

Repeat for all strips of fabric you wish to wash

Put in the washing machine at a temperature below 40C. Do not spin dry.

While in the wash, place a tea towel on the window sill

Take the fabric out of the washing machine and rehang it on the rail. It may drip down as it dries.
Leave the fabric to dry naturally and slowly so that you do not alter its shape. While most modern blind fabrics are machine washable, some are not, and you'll have to do it by hand. Some blind materials may not be able to cope with detergent.
Hand Wash Vertical Blinds
Want to know how to hand wash vertical blinds? Fortunately, it is very straightforward.
Step 1: Gather your tools. To clean blinds by hand, you'll need some tools, including a bowl of warm water with a couple of drops of mild detergent, and cleaning cloth or blind-cleaning tool.
Step 2: Dust the blinds. Next, take the blind fabric off the blind and dust it off. You can do this with a duster or a vacuum.
Step 3: Put a towel on your window sill. Placing something absorbent on your window sills will capture any dripping that occurs when you rehang your blinds.
Step 4: Put the blinds in the water and wash. You can either use your cloth or a manufacturer-approved cleaning tool.
Step 5: Leave the blinds to dry naturally. Remember, when cleaning blinds, you're trying to make sure that you do not leave any folds or creases in the material that might alter its appearance. The best method, therefore, natural drying methods.
How to Dry Vertical Blinds Safely
Most people get into trouble with cleaning blinds at the drying stage. You need to know how to dry vertical blinds if you want the process to be a success.
There are two ways you can go about drying your blinds regardless of whether you decide to machine or hand wash. The first is to simply lay the fabric on a flat surface and leave it to dry out for 24 hours. The other option is to rehang the blind in the closed position, allowing the fabric to dry in situ. If you use the latter method, you'll need to place a cloth below to catch any drips.
---
---

---