Are you looking to spend more time outside, but are constantly restricted by the elements? Perhaps your garden is a suntrap, or don't like the thought of getting wet in the winter. When you have space outdoors, regardless of the size, it would be a shame to waste it. With the COVID-19 pandemic, many have come to appreciate their home and outdoor space even more, but it can be limited by the unpredictability of the weather in the UK.
An awning could be the perfect addition to your garden. Not only can it be tailored to your decor, but it will provide you with an extra layer of protection, so you can relax and enjoy the great outdoors.
There are different types of awnings, depending on the size of your outdoor space and your preferred style. This post will go into depth about awnings and the different ideas to help spark some inspiration for your next addition.
What is an Awning
In its simplest form, an awning is a stretch of material that is permanently fixed above a window or door, on the exterior of your home, perhaps over a balcony or a patio that provides you with protection from the sun or rain, so you can spend time outside even when the weather is not the best.
Awnings come in a range of styles, colours and sizes, so you can choose one that will fit your garden well and suit your requirements, for example, smaller awnings are perfect f you want a place to read in the morning, or larger ones, which are more suited to parties, BBQs and al fresco dining nights.
As a bonus, awnings can also offer dry storage, so you can leave your garden furniture, bikes or even muddy shoes underneath and they will stay protected.
Garden Awning Ideas
There are plenty of awning ideas to suit all homes, decor and architecture. As awnings are permanent and are built to last many years, you must spend time understanding the different types of awnings and their placement in your outdoor space. To help you get started, here are 3 modern garden awnings ideas.
Full Cassette Awnings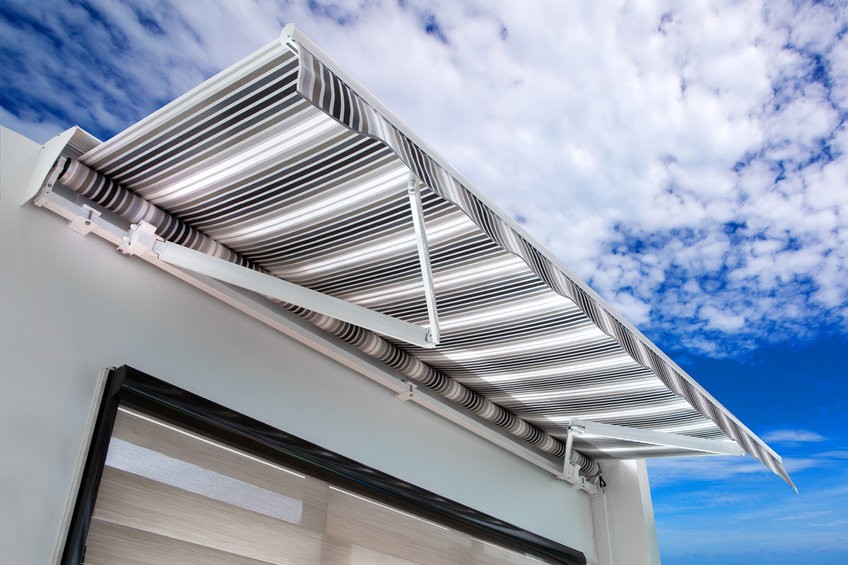 Luxaflex® full cassette awnings provide maximum weather protection for larger residential or commercial properties while adding a touch of luxury. Larger awnings are great for extending your property and have the ability to completely transform your outdoor space, creating a special space for famly and friends to enjoy. Luxaflex® full cassette awnings are fully retractable and are housed in a powder-coated aluminium cassette system. There are two full cassette awnings available, both of which can be motorised for ease of use.
Armony 3000 (for spaces up to 12m wide and 3.6m arm length)
The Base Plus (for windows up to 5m wide and 3.1m arm length)
Although they are large, they do not compromise on style or quality.
Semi-Cassette Awnings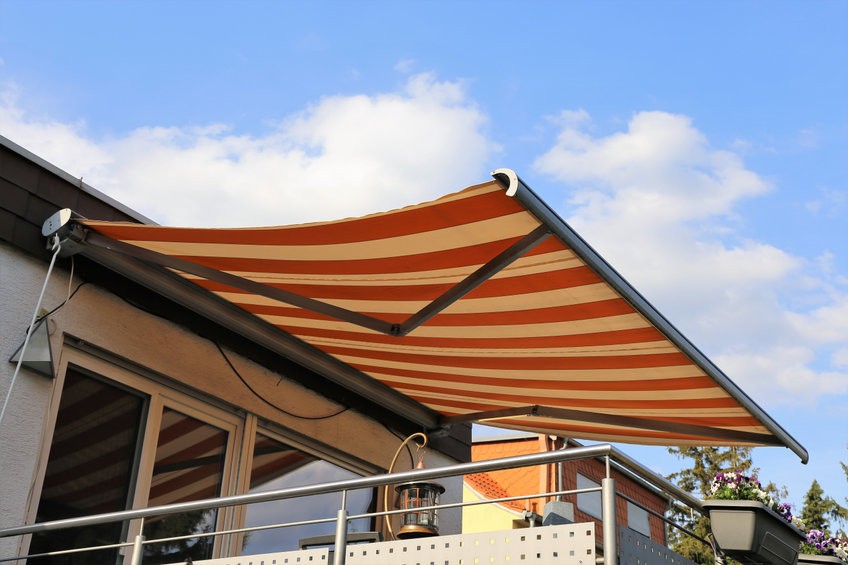 Semi-cassette awnings are partially enclosed and provide some protection from the elements. They are also easily retracted to let the light in and are perfect for providing elegant shading to your garden on a budget. There are semi-cassette awnings that are suitable for larger residential properties and smaller ones.
Palladio 2060 (extends up to 14m wide and 3.6m arm length, perfect for larger outdoor spaces)
Milano 2050 (extends to 5m in width and a 2.6m arm length, perfect for smaller spaces)
Garden/Patio Awnings
Luxaflex® Garden/Patio awnings are specially designed to transform your patio into an extension of your home, where you can spend time, relax, or dine with family and friends in all weather conditions. There are a variety of designs available to suit your garden decor, and the option to motorise the awning.
What type and size awning you require, will entirely depend on your outdoor space and requirements.
Benefits of Awnings
Weatherproof
If you would like to spend more time in your garden but are limited by the weather, then an awning could be the solution. An awning provides protection from all the elements so you can enjoy the weather all year round. It provides the perfect amount of shade in the summer to protect you and your family from the scorching heat and harmful UV rays, (and can be retracted if you do want to enjoy a little sunshine), and protection from the wind and rain in the winter.
Extension of Your Home
An awning is a perfect addition to any garden to expand your living space, without having to go through a timely or costly extension. With an awning, you can spend more time outside, without worrying about the weather. You can use this space to dine, relax, spend time with family and friends, or even set up a home gym. An awning is a perfect way to enhance your home and your lifestyle.
Versatile
Whether you enjoy bathing in sun, sitting in the shade, or enjoying a book in the garden in the winter, awnings can be fully out or retracted whenever you desire. Awnings are the perfect addition to any garden, for both practical reasons, as well as adding a touch of luxury. You can also change the pitch of the awning to maximise your protection or change to a favourable position, as the metal arms are adjustable. Awnings serve many purposes while being low maintenance and easy to care for.
Keep Your Home Cool
Fixed by a window, patio doors or balcony, awnings not only provide a space for you to stay cool in the summer months, but are also able to keep your house cooler, and prevent any colour fading on your furniture from the sun rays. This reduces that frustrating glare and can reduce air conditioning and overall energy costs.
Contact Art Blinds for Awnings!
When it comes to choosing the right awning for your outdoor space, you will need to consider a range of factors, including your budget, the size of your outdoor space, your preferred style and what you will use the space for.
Contact Art Blinds today to speak to a specialist.
---